Peaky Blinders Festival: Actors perform in a tribute to the drama in the streets of Digbeth, Birmingham
Peaky Blinders Festival: Actors perform in a tribute to the drama in the streets of Digbeth, Birmingham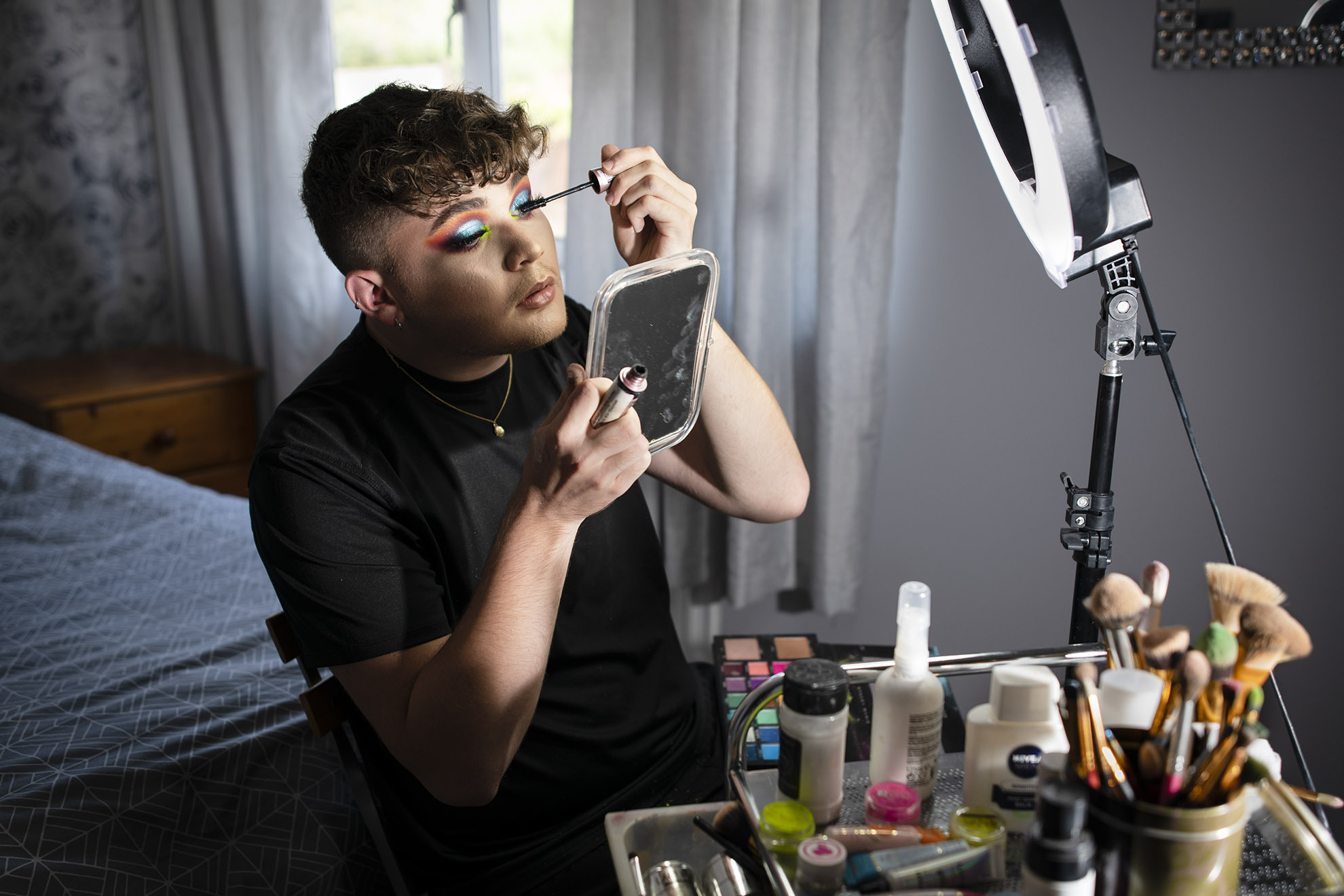 For a Guardian commission on teenagers and extreme make-up
Children playing in fountains in Centenary Square, Birmingham during the hottest UK Bank Holiday on record.
Ponies on the sea defences at Butterwick, Lincolnshire.
A light and sound show at Lichfield Cathedral to commemorate the 50th anniversary of the moon landings
Butterfly Brothers
Joel and Jim Ashton, the "Butterfly Brothers", who specialise in designing insect friendly gardens and landscapes.
Three Counties Show
Shire horses being prepared for the show ring in torrential rain. The show takes place every year at the foot of the Malvern Hills.
Archie Tulk, young jazz musician
LGBT Lessons
Sarah Hewitt-Clarkson, head teacher at Anderton Park School in Birmingham, who has been vilified by some parents for teaching LGBT equality.
Royal Horticultural Society Malvern Spring Festival
Artist Kate Rees paints in a glass box she designed for one of the show gardens
Sir Simon Rattle
Rattle conducts Beethoven's Ninth with the City of Birmingham Symphony Orchestra
Jess Phillips, Labour MP
Cataract Operation
Former surgeon George Watts, who, at 96, has had a cataract operation. He can now take up his love of painting again.
Kunene And The King
Actors John Kani and Antony Sher at the Swan Theatre in Stratford-Upon-Avon. They are appearing in the play Kunene And The King, which tackles the legacy of apartheid.
Memory expert
Mensa member Brian Ashby keeps his memory sharp by memorising the order of an entire deck of cards
Boxing Club
Naz Burrows at the Nottingham School of Boxing. Naz has turned his life around after spending time in jail.
Dave Hill of glam-rock band Slade